An interactive garden that protects you from UV rays, bespoke gardens for people with dementia and varying abilities plus inspirational gardens highlighting the global challenge of gender inequality and the role of 'Human Rights Defenders' are among the stunning show gardens bringing health and charity themes to life at Bloom 2018. Run by Bord Bia and now in its 12th year, Bloom takes place in the Phoenix Park, Dublin for five days from May 31st – June 4th and showcases the best of Ireland's horticultural and food industry.
Created by some of the most acclaimed Irish and visiting garden designers, the Bloom show gardens have become an engaging, colourful platform for many organisations to communicate strong health and charitable messages.
'A SunSmart Garden' by the Marie Keating Foundation is created by award-winning, UK-based, upcycling specialists Peter Cowell and Monty Richardson (a.k.a. The Hairy Gardeners) to raise awareness of the fact that skin cancer is the fastest growing cancer in Ireland and the importance of being SunSmart. Using trees and props, volunteers will be showing visitors how to protect themselves in the sun. A large balloon sun draws attention to the pervasive nature of UV rays. It floats high above a large oak tree which offers shade from the sun and an opportunity to 'tie a yellow ribbon around the old oak tree' as a show of support for those affected by skin cancer.
'Moments in Time: Dementia – Understand Together' is a multi-sensory garden for people with dementia by landscape gardeners Newtown Saunders Ltd, university research centre TrinityHaus and dementia training organisation Sonas apc. This gentle space facilitates understanding, togetherness and connection with nature, drawing on a strong dementia-friendly design evidence base and the lived experience of dementia. It comprises a short multi-sensory walk, central seating area and a gallery installation featuring photographs depicting family, social roles and community as a reminder of the richness of human life and the many memories and skills that a person retains, despite dementia. Visual cues provide guidance and support, while physical objects act as focal points for communication. The garden serves as a template for pop-up dementia-friendly gardens in community parks and public spaces.
An 'Enable Ireland Beyond Boundaries Garden' caters for people of varying abilities and is created by horticulturist and garden designer Linda McKeown to highlight the work of Enable Ireland. The garden can be enjoyed by a wide range of people across all ages and abilities, along with their families. The garden layout is sinuous and organic combining modern materials such as weathered steel arcs, smooth polished concrete paths and a tactile boundary wall. Trees and shrubs provide height and soft structure while lush, naturalistic grasses and herbaceous perennials provide texture, movement and colour. Vertical planting and raised bed planting provide space for herbs and edibles, and glass wind chimes combined with scented planting create an inclusive sensory garden experience accessible to all.
'No Limits – GOAL's Garden For Women' highlights the issue of gender inequality in the developing world by aid agency GOAL. Designed by Cornelia Raftery, this garden depicts a journey from bleak to blossoming by utilising the symbol of a pathway through an African-inspired working landscape. It merges dry arid with lush tropical planting, creatively assembled to highlight the gender inequalities still being faced by millions of women in the developing world. The strength and resilience of women is represented by four tall posts holding large produce-filled baskets. The divide between a garden of low, arid planting transitioning to lush tropically inspired planting is depicted by a barrier slicing across the pathway. This alludes both to the barrier to progress and to GOAL's interventions which assist change. The goal, or desired result, is represented by the garden culminating in an intimate, relaxed and secluded area.
'Resistance, a garden for Trocaire' will represent the plight of Human Rights and Environmental Defenders in the countries of Guatemala, Honduras, Zimbabwe and Palestine. Designed by previous Bloom Gold Medal winner, Barry Kavanagh from Bailieborough in Co. Cavan, it will provide a platform for Trocaire to engage in conversation with visitors about its work with Human Rights Defenders. It will feature pieces of art by Ciaran 'Yohan' Brennan, including a mural that represents Trócaire's work in Israel and Palestine and a sculpture of a young boy with scorched tree trunks as legs. A digital screen will depict those who have lost their lives while defending both human and environmental rights – including some 188 people in 2017 alone.
Community groups around Ireland will create a number of smaller-scale postcard gardens at the event which also have strong health and charitable themes. 'Feast of the Senses' is an accessible, tranquil sensory garden by the Art & Horticulture Group at the Brothers of Charity, Galway, comprising adults with learning difficulties. 'Green Ribbon Garden' by the Shine Basement Resource Centre Cork and See Change symbolises their work to bring about positive change in public attitudes and behaviours towards people with mental health problems.
Flowers
As well as offering export gardening advice, the Garden Expert Stage will focus on health with Ellen Mary Gardening delivering her Plants for Wellness talks offering tips on how to use your garden to benefit your health.
In addition to the aforementioned show gardens and postcard gardens, the Floral & Nursery Pavilion which will be brimming with flowers and plants from more than 30 of the very best plant nurseries in Ireland; the Garden Expert Stage and AOIFA Floral Art Stage; a Botanical & Floral Art Exhibition; and the Office of Public Works' Victorian Walled Kitchen Garden located at the centre of the site, allows visitors to learn about the design and layout of this traditional garden structure.
The centrepiece of the Floral & Nursery Pavilion will be a 'living' installation designed by Oliver and Liat Schurmann to communicate the role of 'Origin Green', the world's first food and drink sustainability programme operating on a national scale, created by Bord Bia. The semi-circular walls, consisting of 3.5 million seeds and made from wheatgrass, barley, cress and micro-greens, will enclose a miniature town. It will be dripping with water throughout the event and, as 90% of the materials are natural, it will decompose within days.
Food Features
The Bord Bia Food Village will be a bustling culinary hub showcasing the very best of Irish food and drink. This will include more than 100 Irish food producers with health offerings taking to the fore, while the Bord Bia Quality Kitchen Stage which will host cookery demonstrations from some of Ireland's best-loved chefs including Neven Maguire, Catherine Fulvio, Paul Flynn, Oliver Dunne, Rory O'Connell, JP McMahon and Roz Purcell, Gary O'Hanlon and Adrian Martin.
Bord Bia's '7 A day' under the Rainbow at Bloom feature will highlight the role that fruit and vegetables play in a healthy balanced diet and offer visitors advice on how using the colours of the rainbow can make that target achievable. The GIY Zone returns with the Food Matters Stage, which will be home to daily workshops and debates around topics such as hospital food, mental health, school lunches and gut health. The hub will bring together Ireland's leading food writers, chefs, nutritionists, healthcare experts and journalists including Professor Donal O'Shea, chef Rory O'Connell, food critic Tom Doorley and Paula Mee, nutritionist. (Stage timetable attached to this email) Elsewhere, GIY host a number of stages each celebrating growing initiatives around the country.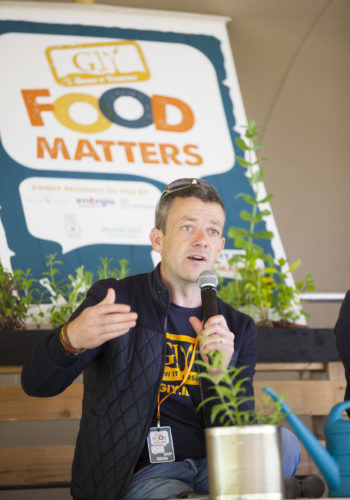 Family Fun
The 'Budding Bloomers' children's area will host a vibrant mixture of family-friendly features to keep children of all ages entertained and active in an effort to play, learn and grow at Bloom. This includes Margaret's Fun on the Farm Kids Zone; Paddy's Plot where children can learn how to grow a sunflower; 'Away with the Fairies' which will demonstrate how to make your own fairy garden; and features from Children's Books Ireland (CBI); Clap Handies; Amnesty International; Billie Bubbles; Scientific Sue; Physics Busting and Food Dudes.
There will also be some 200 retail exhibitors (for shopping), the YouBloom music stage, the Debenhams Fashion Stage and a children's stage.
Tickets
Tickets are on sale now on Ticketmaster and can also be purchased on the gate. Ticket prices vary from €16 – €25 and children under 16 go free.
For more information visit www.bloominthepark.com or follow Bloom on Facebook and Twitter @bloominthepark.
Returning sponsors for this year's event include FBD Insurance, Irish Independent and the Office of Public Works.