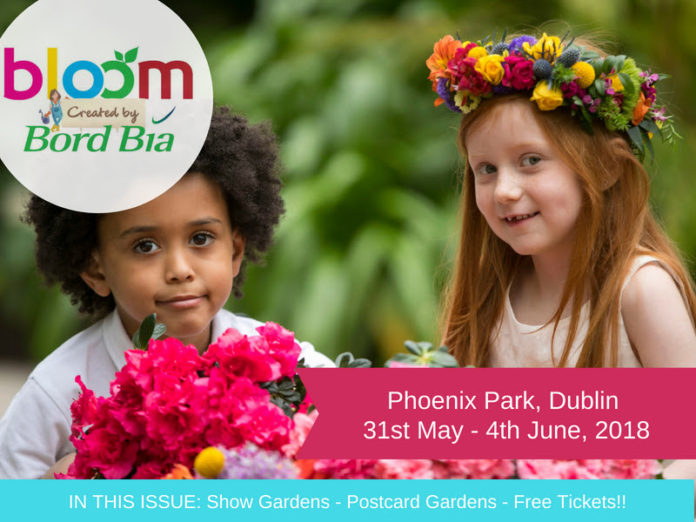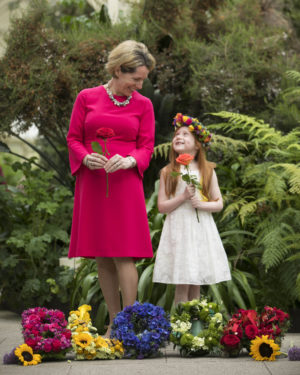 Spectacular Show Gardens take centre stage
Bord Bia's Bloom is only two weeks away and the jewel in the crown will be an eclectic mix of 20 stunning show gardens created by leading garden designers worth some €1 million (accounting for plants, materials, sponsorship and labour). These magnificent works of art will intrigue, challenge and amuse in equal measure by communicating an eye-opening multitude of messages around the following contemporary themes:
Health & Charity
Strong health and charitable messages are the focus of a number of the spectacular show gardens, including 'Moments in Time: Dementia Understand Together', which is a multi-sensory garden for dementia sufferers; 'A SunSmart Garden' to raise awareness of skin cancer by the Marie Keating Foundation designed by UK based 'The Hairy Gardeners'; the 'Enable Ireland Beyond Boundaries Garden' which caters for people of varying abilities; the 'No Limits – GOAL's Garden For Women' which highlights the issue of gender inequality in the developing world; and Resistance, a garden for Trócaire which will represent the plight of Human Rights and Environmental Defenders.
Environment & Urban Living
The challenges of urban living and the need for access to outdoor space and cycle routes will be explored by Dún Laoghaire Rathdown County Council's 'DLR-Fernhill – An Exercise in Sustainability' garden and 'The Greener Way for Fingal' by Fingal County Council. BIM's 'Sustainable Seafood Garden', meanwhile, will tell the story of the journey from tide to table of the fish and seafood that surround and inhabit our island.
Craft, Creativity & Popular Culture
In a nod to popular culture, Universal Studios will host a Greek-style garden inspired by ABBA songs to celebrate the cinema launch of Mamma Mia, Here we go again! and Woodie's will celebrate 30 years in Ireland with a garden that chronicles pivotal points in Ireland's social and cultural evolution in the 'Moving Statues to Marriage Equality' garden.
Win Tickets to Bloom!

Bord Bia has five pairs of FREE TICKETS to give away to this year's Bloom in the Phoenix Park on the June bank holiday weekend. To be in with a chance of winning, email your name and postal address to competitions@bloominthepark.com with 'Bloom Ticket Giveaway' in the subject line. Entry closes at midnight on Monday 21st May so make sure you enter before then!
A word from Kerrie Gardiner, Bloom Show Garden Manager
"We've been on site at the Phoenix Park since the end of April getting the show garden area ready and the large show garden build underway. It's amazing to see the transformation of the greenfield site each year into spectacular show gardens. The designers themselves are striving for perfection in the hope of earning an award. They must work to very strict criteria in the design and build of their gardens. Our designers' commitment to their profession and the wonderful show gardens they create are the cornerstones of our aim at Bloom to exhibit the best of horticulture and design. This year will be no exception."
Postcard Gardens
Sponsored by FBD Insurance, thirteen small but perfectly formed postcard gardens will feature at Bloom this year demonstrating that size doesn't matter when it comes to wonderful outdoor spaces! Created by community groups from around Ireland, these showpieces will represent their club, locality or a special person or character from their community.
The postcard gardens have fascinating themes relating to mental health, architecture, education, biodiversity and the environment to name but a few by organisations including Villierstown National School, Inchicore College of Further Education's  furniture design and horticulture students, Aliçia Kavanagh in conjunction with Meath Springboard Family Support Services, PACE social enterprise, Coolmine Therapeutic Community, the Art & Horticulture Group at the Brothers of Charity Galway, Cabra Community College's VTOS horticulture students and Adult Education Services, Bray Community Addiction Team, Kill O' The Grange Garden Group, North Kildare Educate Together National School, Batteries for Barretstown, Shine – The Basement Resource Centre Cork and See Change.